MERRY
CHRISTMAS,
CYBERSPACE
!
!
!
EEP! Can you guys believe that it is Christmas ALREADY?! I can't. It feels like just yesterday that we were trapped within the hot and sweaty days of summer, and now we're smack-dab in the middle of snow and flurries and Christmas and cookies and Special K Bars (please tell me at least one of you knows what those are) and PRESENTS and love and goodwill towards all small men and — above every single one of those lovely things — the celebration of Jesus' birth.
Now, I'm not going to sit here and smack you guys upside the head with all of the particulars on how He is the Reason for The Season and all that like some angry Christian person trying to slice your soul open with a paper leaflet, because odds are you already know the story of the manger and the wise men and the shepherds watching o'er their flocks by night and the angels and the very rude innkeeper and the elves by now.
But just for a moment, in between all of this present-giving and receiving and laughter and eating and Special K Bar enjoying, let's all just stop and take a single heartbeat to remember the true meaning of Christmas. Let us take three seconds out of our Christmas day to wish a Happy Birthday to the one who the day actually belongs to — to the one who came to lay down his life so that we could be saved.
Let's take a moment to remember, in a world where everything that matters is forgotten.
This year, let's truly remember what Christmas is all about, instead of just thinking about it in passing. Let's rejoice in the fact that the most amazing gift of ever has already been given to us, and let us take a minute to send a quiet and heartfelt prayer of thanks to the One who sent it. It doesn't take very long at all to say happy birthday. It takes even less to say thank you.
(Okay. So maybe I am slapping you upside the head with a paper leaflet. #oops)
And as I sit here typing these words, truly letting myself remember what this most precious season is about, I realize that I must also thank each and every one of you, my fellow friends, bloggers, readers, and cookie crumbles. Thank you for being such a constant ray of light in my life each week with your uplifting and hilarious comments, your support when I know my posts are actually quite terrible and slapped together (quite unlike this one, amiright? hahaha…haha…ha.), and your constant motivation to keep me writing and blogging. I have stumbled head-first into what is obviously the most amazing writerly community in existence, and I am so very thankful to have become a part of it.
My dearest beans, I wish for all of you the absolute Merriest of Christmases and the Happiest of New Years. May the next few weeks of your life be filled with cookies and love and blessings abounding.
May you not sob dramatic tears of despair as I leave thee hanging until February like the happy little marshmallow that I am.
Merry Christmas, my friends. God bless you, your families, your friends, that weird uncle that you have no clue which side of the family he comes from (and neither does he), that little kid that always gives you the flu, that aunt who makes the figgy pudding, that biscuit rotting sadly away in the corner, that fungus spreading on the figgy pudding. . .
Merry Christmas, Cyberspace — and farewell. . .
---
---
talk to me, peasants!
Well, this post was a tad bit random and weird and hopefully not preachy cause I kinda lost control there, guys but ANYWAY! It is Christmas! I am excited! I actually finished all of my Christmas presents and am debating opening up a toy shop now. . .
AND I'M ALSO SPONTANEOUSLY DITCHING ALL OF YOU FOR AN ENTIRE MONTH GOING ON HIATUS!!!! WHOOT!
That's right, folks! Today kicks off Day One of my New Year Hiatus!!! And I honestly could not be more excited. Hiatuses always get me revved up to continue blogging, and right now, I'm basically just a puddle of uncreative goo that's slopping uselessly at the keyboard with my bogey hands. So I think we can all safely assume that I need this. Badly.
But never you fear, my dearest beans, for I shall hopefully still be rather active on the blogosphere. I'll still be stalking and reading and commenting on posts and all that jazz. In fact, you probably won't even notice I'm gone. #lies
But enough about me and all my empty promises, for the time has finally come for me to be off. After all, I have things to do, places to see, Special K Bars to eat, stories to write, wizards to chase, dwarves to burgle for, dragons to slay. . .
It is time for me to do ALL OF THE THINGS. 
So — as always — until next time, my beautiful marshmallow fronds. . .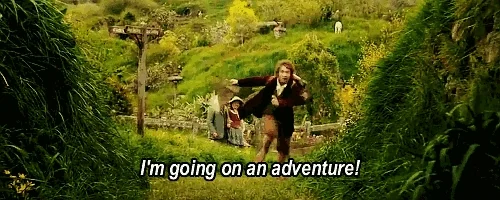 *flings cookies in the air and disappears*