good morning, Cyberspace!
Today, we are going to be talking about bloggers. And not just any old bloggers — alllll of the bloggers.
Or at least all of the bloggers that I can think of straight off the bat. Because that is a totally thorough and exhaustive interpretation of every single blogger of ever, so if you're a blogger and do not see yourself anywhere on this list, then technically you don't even exist and should probably consult your imaginary friends for help.
There are literally a TON more bloggers out there in the universe than what's on this list, but since I am basically just a smol bean sprout with literally no drive to do anything, I'm just going to take a dramatic stab in the dark with my rusty pitchfork and list off a few of them. Particularly the blogs that you are most likely following right this instant. Because I am a psychic.
And also a wizard.
And as a bonus, I'm willing to bet that YOU happen to fall underneath one (or more…?) of these categories yourself! So if you're looking for some further enlightenment of who you truly are, then keep reading, my friends. Deeper understanding is only a few clicks away.
(disclaimer: this list is not sarcastic in any way, shape, or form, and should be taken at the highest level of seriousness you — a human — are possibly capable of)
---
---
Ten Types Of Blog(ger)s That Are Probably Waddling Around In Your Blog Feed Right This Instant
Number One  – 

The BIG Bloggers (*jazz hands*)

 Okay, so I'm pretty sure we're allll following that one blog, am I right? You know exactly which one I mean. This is the blog with approximately 5,823 followers, 3 billion posts, and apparently a time turner stripped straight from Hermione Granger's cold dead neck because HOW ON EARTH'S CRAGGY SURFACE DO THEY PUT OUT THAT MUCH CONTENT IN A SINGLE WEEK?!?!?!?!?!?!?!!

ahem.

Anyway. This blogger is your #ultimategoals, and you're bound and determined to possess their body and become them like Lord Voldemort strapped to the back of Professor Quirrell's head follow in their giant, soul-shattering footsteps someday.

. . .hopefully.
Number Two – 
The Photogra-Blogger
Not only does this blogger have a unique way with words, but to put the buttercream icing on top of the chocolate layer cake, this blogger's photos and graphics are so Gouda that it makes your scrappy images look like a mold-infested can of cheese whiz.
aha. haha.
I'm sorry. That was pretty cheesy.
. . .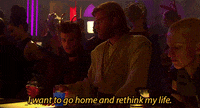 Number Three – 
The InvisiBlogger
This is the blogger you're following that you're not entirely sure where they went, but you're pretty confident that whenever they come back from their unannounced, almost curiously sudden Hiatus, they're going to have a perfectly understandable explanation.
Because they'll totally be coming back, guys. Even though their last post was June of three years ago.
heh.
I mean, it's not like they're on the run from the fuzz of Bulgaria, right?
. . .
. . .right?
Number Four – 
The Clutter-Blog(ger?)
This is the blog that you constantly see in your WordPress feed, but. . .if we're being 100% honest here. . .you have absolutely no idea where this blog even came from. It's just sort of. . .there. With no reason as to its existence (kinda like that bruise that keeps appearing on my right elbow. . .?) and absolutely no recollection of ever having followed it in the first place.
And you don't want to unfollow it because, well, that's just pretty rude, right? So there the blog sits. Staring at you. Guilt-tripping you because you never click on the three to four posts it produces every single week. . .
. . .
(. . .please tell me I'm not the only one. . .)
Number Four –
The BFFB. . .otherwise known as the "Best Friends Forever Blogger"
This is the blogger that you met through. . .you guessed it! Blogging. And boy how your friendship has grown. What may have started out as a few cordial comments back and forth between the two of your blogs has quickly escalated into approximately fifty separate email conversations, many flinging cookies, multiple squealings over the internet about several fandoms/books, and also a ton of writerly ponderings as you try to figure out why your characters are acting like pieces of dried lumber.
And not only do you absolutely LOVE this blogger bean, but you are in love with their blog, too. It's like your blog away from blog. Or. . .home away from home. . .?
So basically you spend a lot of time there and eat all of their food.
Number Five –
The Newbie Blogger
Every single blog has to start somewhere, and this blog literally did just that. Perhaps the blogger isn't exactly sure what they're doing quite yet (does anyone truly know what they're doing when starting their first blog???) but you can bet your buttons that once they find their niche, they'll be pounding out some F-A-B-U-L-O-U-S content.
Hopefully.
Either way, if you stumble across one of these blogs and realize that there's even a hint of something special buried beneath all of the confusion and mess that is beginning a blog and creating a voice, then it is definitely worth your time and effort to give these newbie bloggers some love. Even something as small as a one-sentence comment can go a looooong way to a blogger who's just starting out.
And who knows? Perhaps you're going to be the first reader to inspire this young blogger to keep blogging for years to come.
(oh, look at me. i'm being sentimental. ew.)
Number Six –
The Happy Smol Blogger
This is the blog that's either just started out, or perhaps has been alive for years, but no matter how long it's been floating around the Great and Terrible Cyberspace, it has remained smol and precious throughout it's entire lifetime. And while the blogger might wish at times for their blog to receive more traffic, follows, or comments, there's no denying that what interaction they do receive down in the comment section is basically like a big, happy group of besties hanging out over chocolate chip cookies and milk.
And there's literally no greater feeling than that, guys.
Number Seven –
The Big-Mouth Blogger
Ah yes. The Big-Mouth blogger is the blogger who constantly uses way too many words and phrases within each sentence, making each and every paragraph extend for far too long across the page, and causing every single one of their posts to bloat to the approximate size of a 300 pound bullfrog.
They also tend to add in strange, slightly unexpected metaphors and analogies that will make your left eyeball liquidize as it tries to comprehend all of the text spattered like an infant's chunky vomit across the page.
Number Eight –
The Psychotic Writer Blogger
This is the blogger who — apart from writing their blog — is also a novelist. Or a short story writer. Or a poet.
Or all of the above.
Either way, they write a lot. And their blog exists just to prove that undoubtable fact.
Along with a lot of writerly tags and many NaNoWriMo How-To guides and survival kits, this blogger also has three potential warrants out for their arrest in four separate countries, is being tracked via laptop camera by the FBI, and may or may not have two or three festering bodies stashed away in their attic, as well.
For research, of course.
Number Nine –
The Comedian Blogger
This blogger is absolutely hilarious.
Or. . .they think they are, anyway.
The Comedian Blogger's posts are usually filled to the brim with puns, analogies, anecdotes, memes. . .basically anything and everything they can think of to make you, the reader, laugh.
Or at the very least release that weird breathy snort thing, because that's apparently how everybody laughs now.
Because we're cool. And hip.
And only slightly amused.
Number Ten –

The GIF-y (jiffy???) Blogger

I don't know if you guys have noticed this yet, but the latest trend in blogging nowadays is using these little things called GIF's. (pronounced JIF. like the peanut butter. [FIGHT ME])

But anyway. The remarkable thing about these little buggers is that they bring a whole new layer of meaning to a blog post. And the GIF-y Blogger knows precisely how to use that to their advantage. Each and every one of the GIF-y Blogger's posts are carefully embellished with perfectly coordinating GIF's that take their formerly hilarious message up to a completely new level of entertainment.

However. A newbie GIF-y Blogger must take extreme caution, because while there may seem to be a whole host of intriguing GIF's to use on your blog, there are, in fact, certain sets of GIF's that are considered socially acceptable within the blogging community. And, in return, there are many, many realms within the GIF universe that should never, ever be touched by human hands.

So obviously I have provided a few communally acceptable GIF's that you should totally be using in your blog posts right now. You know, just in the rare case that you want to be extremely awesome like me.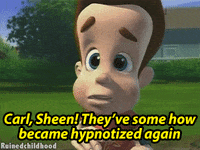 You're welcome.
---
---
talk to me, peasants!
And that's it for this week's smudge, folks! As I said before, this is definitely not an exhaustive list, but it is, after all, a start. (which will most likely never have an end. #oops)
And this was also a weirdly short post for me, so. . .yeah. That's unusual. (am I feeling okay? am I ded????)
But anyway, let's chat! Are you able to relate to any (or all?) of these blogger categories? What are your absolute FAVORITE types of blogs? Are there any blogger/blog types that I missed? And most of all, can you guess which blogger type I am? (I bet you can't. I'm unpredictable, obviously.) Let's talk about ALL OF THE BLOGGING THINGS down in the comments below, okay?
As always, until next time. . .
*flings cookies in the air and disappears*