I feel like I've done that with a title before. . . aha.
good morning, cyberspace!
As promised, today is going to be a very rambly, slightly incoherent post about ALL OF THE THINGS that have been going on in the world of everlost. Over the past few months weeks, a lot has happened with my smol little book son, and though I can't necessarily tell you guys everything that I've been struggling with and scheming and writing — because of spoilers, obviously. ain't no one got time for that — I do want to continue doing update posts for this book.
Even if they are slightly vague and bizarre.
Because someday I'll be able to look back on this conglomeration of posts that make absolutely no sense and think — Oh yes. I remember when I was struggling with that. What jolly good memories, chappie.
So even if it's slightly rambly, I do hope you enjoy this very incoherent word vomiting of thoughts.
So let's dive right into the madness, shall we? This post is massive enough without me writing a super long intro for it. *thumbs up*
• • • • • • • • • • • • • • • • • • •
— THE CURRENT DRAFT & WHAT'S BEEN HAPPENING —
The last time I dedicated an entire post to the creation of everlost, I had just got done telling you guys that I finished my second draft. That second draft had taken me exactly one year to complete, right down to the precise day. And that post I mentioned? THAT POST CAME OUT IN APRIL.
It has literally been five months since I've talked in-depth about my precious book baby, and let me tell you guys. . .I totally spewed forth some lies in that post.
Five months ago, right when I was just coming off the writing high of finishing the second draft of everlost, I thought I would have all the time in the world to pursue blogging and creating and working on another book child that I have been carefully cultivating in my brain meats for the past year or so. I held every belief that I was about to jump off the proverbial cliff of doing ALL OF THE THINGS!!!.
I thought I was about to give everlost a break.
However — as most things usually turn out when I am at the helm — absolutely none of this happened.
Like at all.
I started out well, of course. The Kenzie always starts off well. I finished the second draft of my precious book child, converted each chapter into a PDF format, and then promptly began sending my smol son off to my beta readers. (and by beta readers I mean my wonderful mom because she is my alpha reader and obviously the hierarchy goes alpha, beta, omega, garbage can)
This was The Plan. Sending my book off to beta readers was The Plan.
But then. Then, my dear Bob. . . Then the unthinkable happened.
I started to receive feedback.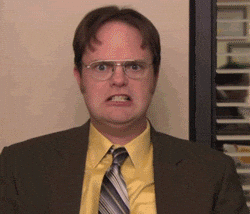 I know. Shocking.
In all honesty, if I could do it all over again, I would have done some things extraordinarily different than what I actually did. But in my defense, this was the very first time I ever received feedback on a piece of work that was larger than 20,000 words.
And I say 20,000 words because my mom actually beta read my novella, Gretel, before I published it on Wattpad, and that was like. . .just a tiny smidge over 20,000 words, but in my mind THAT WAS A TINY LITTLE WORK OF FICTION, PEASANTS.
(and for anyone wondering, the scene with the grandmother's backstory is still extremely confusing because I — in my very obstinate way — completely refused to edit it even though like every single member of my family was confused by it. ahahahahaha. #oops)
But as far as the feedback for everlost goes, I have to be 100% honest here and say. . .I did not take that feedback very well.
I mean, it wasn't that I didn't want the feedback. Obviously, I did. I wanted that feedback more than anything in the world. But there was this tiny part of me that couldn't help but beat myself up every single time my extraordinarily patient alpha would tell me about something that could be improved on within the story, because in my mind, I hadn't done it exactly right the first time. And since I hadn't done it exactly right the first time, obviously the story was junk and trash and should be lit up with a blow torch.
And this automatic response to feedback completely poisoned my entire mindset over the following weeks that ensued.
Instead of taking a break and working on something else to keep my mind off everlost and the feedback it was receiving, I dug both my hands into my precious story and absolutely refused to let anyone read the next chapter until I had gone through it all with a fine-tooth comb. Instead of having fun just creating and working on other projects and remembering that everlost was still only in it's second draft — of course it wouldn't be perfect — I chose to worry and stress and rip my hair out because "the story wasn't perfect."
The story wasn't good enough.
The story wasn't the best possible version of itself that it could ever be.
And the really, really, really stupid thing about this entire thing is. . .of course it wasn't the best possible version of itself that it could ever be. It was a second draft. It had plot holes. It had messy character relationships. IT WAS ESSENTIALLY A MESS. And the entire POINT of beta readers is to clean up that mess. Obviously.
But did I realize this? Did I come to terms with the fact that my story would someday be the absolute best it could possibly be simply because I was letting other people read it and critique it and tell me what was working and — most importantly — what wasn't?
. . .no. Of course not.
Because apparently I am such a control freak when it comes to my writing that the thought of letting someone read something I had written that was less than was just so impossibly horrendous a thought that I couldn't stand it. I couldn't do it.
I took the story back into my hands and decided that it needed another round of personal revisions before anyone could read it.
And this, my friends. . .this was probably the biggest mistake I've made in a very very long time.
These revisions I'm referring to were only supposed to take about a week. Two weeks tops. But — as we all know — I work very poorly under deadline. It's a character flaw, I know. I swear I'm working on it. So what started out as a two-week break from beta reading turned into. . .
. . .you guessed it.
FIVE MONTHS.
Yeah. This still makes me feel kinda sick when I think about it.
But it's fine. Everything's fine. I'm perfectly fine. AHAHAHAHAHAHAHAHAHAHAHA NO I'M NOT.

However, after much thought, editing, and many moments wherein I have pondered the meaning of life, I have come away with three very important pieces of knowledge on the revision process that I should now like to impart unto you, my smol reader:
THING ONE. . . You don't have to send your beta readers the "Perfect Draft"
Your second, third, and probably even fourth drafts are going to be messy. They're going to be terrible. You're going to want to burn them and roast the souls of your enemies over the remaining embers. But just because your story isn't "perfect" doesn't mean you shouldn't send it to your beta readers. In fact, because they aren't perfect is the exact reason why you need to send your stories to beta readers. Not so that you can eventually make them perfect — perfection is not something I want to strive for ever again — but to simply make them better. To make them mean something. To receive the tools and feedback you need to shape and mold the stories you're creating into something that is beautiful in it's slightly messy, definitely not perfect way.
THING TWO. . . taking breaks between drafts is okay. in fact, it is probably a necessity. so please do this. please. . .
If there is just one thing I have learned from this experience with EV, it is that I will always always always ALWAYS — from this point forth — take at least a two week hiatus from a book after every single draft. This doesn't mean that I won't write during these hiatuses — I'm always writing something, it seems — but I am not going to think about, touch, or even look at the draft I just finished until my two weeks are up.
Now, the real question is whether or not I'm actually going to stick to this formula once I finally finish another draft, but we shall see. . .
. . .and finally. . .
THING THREE. . . it is a very, very, very bad idea to continue editing a book while someone is beta reading it. (please read: NEVER EVER EVER CONTINUE EDITING A BOOK WHILE SOMEONE ELSE IS READING IT, YOU COMPLETE AND UTTER NINCOMPOOP.)
Does this one need any explanation? I don't think this one needs any explanation. . .
Basically, whatever you do, DO NOT CONTINUE TO EDIT YOUR BOOK WHILE SOMEONE ELSE IS BETA READING. I mean, maybe this works for some people??? But it most definitely does not work for me, and if something doesn't work for me, I write it off for the rest of eternity. So from now on*, every time someone is beta reading my novel, I am going to hitch a camel to the Himalayas and ne'er return until they have finally read through the giant sasquatch of a book that I have written.
So.
That's basically all I have to say about what's happening with everlost right now, folks. I finished the second draft, I made a booboo, and now I'm working on the third draft (way too much has changed to call it anything less than a third draft) and I have a very optimistic but still pretty workable deadline for when I want this draft finished by. And though I don't want to jinx anything by giving out specific dates, you can be sure that if I actually finish this draft by that deadline, there shall be a very squealy and possibly incoherent blog post telling you guys all about it.
Let's move on to the next topic for today, shall we?
*MY EYES WILL NOT BE BLINDED BY THE LIGHTS
— WHAT'S NEW —
As I previously mentioned, quite a solid chunk has changed in this new draft of EV. However, unlike the second draft that took me an entire year ahahahahahahaha *death*, the third draft's changes have less to do with plot, and more to do with character motivation and goals.
And this, my friends. . .this is a complicated thing to talk about on the blog. Because on the one hand, I want to spew forth ALL OF THE THINGS that I have been struggling with when it comes to my characters and their goals. But on the other hand, I know that it's going to be severely confusing and probably not very fun to listen to.
So for this update post, we're going to be reaching a bit of a middle ground. I'm going to ramble for a bit about the things that I've either a) changed, or b) been trying to change for the past five months but LOL WHAT IS A DEADLINE, AGAIN???, and hopefully your brain is not a pile of undiluted mush by the end of this. . .
. . .THE CHARACTERS (motivation and friendships and annoying inner monologues). . .
. . .thao. . .
Thao, guys. Thao. I used to love this smol bean. I still love this smol bean to pieces, what am I talking about. But as of late, he has not been very kind.
For whatever reason, the character who is always talking in the back of my head has decided that — for the past couple months — HE DIDN'T WANT TO TALK ANYMORE. He was done. Out. Gone with the wind*. He decided to take a little stroll down candy lane and ne'er returned. (much like me going to the Himalayas, it would seem. . .) And this, my friends, was SEVERELY AGGRAVATING.
I mean, I get it. Writing a book with multiple POV's is hard. This is why most newb writers (such as myself) typically limit themselves to one character POV. Or, if they're feeling very, very lucky and auspicious, two. Because that way you only have to worry about one little toddler running around and ruining the world. That way, you just have to plant yourself inside your one character's head and stay there.
But four POV's? Four means you're constantly bopping between heads. Four means you sometimes lose sight of one character because the other three are currently yammering at you that you totally just wrote their POV chapter completely wrong and must go back and edit it.
Four means that you apparently need to have very specific routines that literally force you into your character's head so they will begin talking again. And for me, this is music.
A little while ago, I joined Phoebe — one of my amazing friends and writing cabinmates — for a writing day on a bright, beautiful Saturday morning. She was working on revisions for one of her stories, I believe, and I — being the insane little hobgoblin that I am — was fighting my way towards finishing up the third draft of everlost so I could enter it into Pitch Wars**. And it was during this very sporadic and extremely fun writing session (in which I believe we talked more about ALL OF THE WRITING THINGS rather than did any actual writing XD) that I finally, finally figured out how to get my smol precious Thao to talk to me again. And that, my friends, was through his theme song.
Yes. Thao has a theme song. i'm not weird i swear.
And as for what this theme song is, well. . .that is for me to know, and you to hopefully never find out. All you need to know is that the minute I discovered this song, it was like the floodgates were pouring open, and BOOM. My Thao was back.
It was actually a very fun discovery, though, because even though my writing playlist consists of songs for each individual character, rather than the entire novel as a whole, I never knew that I could actually get into character simply by listening to that character's theme song. And I also didn't know that my characters had theme songs.
So I mean ???? #themoreyouknow
To be fair, though, I think Thao's silence was due more to my concern about perfectionism than his actual rudeness. The thing about this character is, he only comes out to play when my brain allows him to. With Thao, I need to have a very relaxed, sarcastic, and loose mindset in order for him to talk properly. Worrying about word count or plot holes or basically anything that prohibits me from just having fun with the story completely shuts him down.
Basically he's like a rusty faucet. It's absolutely painful to get his voice turned on, but once you do. . .
. . .LOL GOOD LUCK SHUTTING HIM UP.
*worst movie ever.
** LOL #FAIL
. . .adaline. . .
Remember how I mentioned having four points of view typically leaves you losing sight of one of the characters? For me, that character is Adaline.
And this is SOOOO annoying, because I absolutely ADORE Adaline. But for some reason, no matter how hard I try, once I hit the last third of the book, Adaline just sort of. . .fades.
And I mean — without giving away any spoilers — there is actually a reason for this? She is supposed to fade just a little bit. But the thing that concerns me is that she sort of loses sight of her main goal. AND I DON'T WANT THIS PRECIOUS BEAN LOSING SIGHT OF HER MAIN GOAL. Because that means I'm going to have to go back in and edit her goals and motivations and work on ramping up her character development and UGH. WORK. BLECH.
Buuuuuuut, if it means the story is going to be better because of it, then obviously the work is worth it. But I think — since I've only just discovered her goals are slipping a tad near the end of the book — that I'm just going to shove this aside for now, let it stew in my brain meats for a while, and come back to it with a fresh brain in the fourth draft.
Because despite what young, 17-year-old Kenzie believed after finishing the first draft of this book, there will most certainly be a fourth draft.
And possibly a fifth. And a sixth. And a seventh.
Aha.
. . .petey dear. . .
Ah yes. Peter Dear. How I love this smol child.
AND ALSO DESPISE HIM WITH ALL THE FIERY PASSIONS OF MORDOR BECAUSE ASDFGHJKLASDFGHJKL YOUR INNER MONOLOGUES, BOY! JUST SHUT UP ALREADY.
Gaaarrrrrhhhh. . . I don't even have words for how annoyed I am with Peter right now. It took me until my mom actually read through some of his scenes to realize that WOW.
W O W.
This boi does not shut up. Like ever.
And I don't mean he talks a lot. Oh no. I mean that his inner monologues would put the opening scene of The Fall of The House of Usher to shame. Just. . .wow. Most of this third draft has just been me cutting out loads upon loads of unnecessary stuff that Peter just happens to think about at the most random of times.
And also making his character much less annoying. Because OH MY GOODNESS is this character annoying. Like. . .seriously annoying. Especially when it comes to one of the other characters in particular. It's gotten to the point where — when I'm reading through his chapters — I'm basically just rolling my eyes and inwardly puking whilst highlighting everything in yellow so I can delete it all in one fell swoop.
So yes. Out of all the characters I'm struggling with right now (which would be literally every character. . .?), Peter is my least favorite at this point in time.
. . .bella. . .
I very nearly just wrote her actual name. ahahahahaha oops.
If Peter is my least favorite character right now, I'm pretty sure Bella's my favorite. Something my mom pointed out in the handful of chapters i let her read I AM SO SORRY MOM was that Bella's character was slightly weaker than the others. She was a good character, yes, but her voice and personality and overall characterness just wasn't as strong as the other three.
And this was something that I definitely wanted to change.
In the first and second drafts of everlost, Bella wasn't all that prominent. She was more in the background, letting others dictate what she was doing and just sort of playing along without having any say in what was going on. Her friendship with Peter — though adorable in my head — was severely lacking on the page, and her personality was pretty much just all over the place.
In the third draft, however, I have been working on her character. I've been refining her personality, digging deeper into what makes her tick, and also trying to showcase her and Peter's friendship a bit more, because HOLY GUACAMOLE AND CHEDDAR, FOLKS — she and Peter play off each other so well.
Or at least. . .I think they do? I hope they do. please let them do.
I guess I'm just really excited about Bella's character right now, because I'm currently right in the middle of a scene where she and Thao begin to form a budding friendship, and IT IS JUST THE MOST ADORABLE THING EVER, OKAY??? Because Peter is jealous and Adaline is slowly going insane and Thao has no clue what's going on and it's just a really fun moment, methinks. . .
And also I've been ranting and raving about my characters for the past 3,000 years. Aha. Can you tell I love these precious little beans? Because I LOVE THESE PRECIOUS LITTLE BEANS, GUYS.
But I shall shut up about them now, because there are a couple other minor things I'd like to discuss in the What's New category before the word count police finally drag me away to the depths of the underworld.
how on earth is this post over 3,000 words already. . .???
. . .OTHER STUFF THAT IS KIND OF RANDOM BUT WHATEVER. . .
. . .the tree. . .
This is probably going to make literally no sense to anyone but me, but RIGHT NOW I AM HAVING ISSUES WITH A TREE.
To put it into better words, there is a tree in my book. It's a nice tree. A glorious tree. It is my favorite fictional tree. BUT I HAVE LITERALLY NO CLUE WHICH SCENE IT GOES IN. The scene it was initially in — and the only scene I can properly fit it into without making the narrative super stilted and weird — was Bertha. Which you may or may not remember as a scene that I have since decided to chop out of my book for the rest of eternity.
Which ultimately means that I have no place to put this tree, and so the past two days have been spent struggling with the placement of this stupid tree whilst vaguely wondering whether or not I should just cut the entire thing out.
But I won't cut it out, because it's my tree and I love him and it was planted by Thao's great grandpa 72 years ago. So there.
. . .Nathaniel. . .
I mean nothing new has actually happened with Nathan in the third draft, but like. . .??? I still feel really bad about what I've done to him. Ahahahahahaha. . . *insert nervous laughter here*
. . .Organization!. . .
OOH! OOH! I nearly forgot!!! One of the things that I've been doing to help increase my writing productivity over the past week or so is creating a writing journal!!! And while it looks absolutely ATROCIOUS and possibly like an elephant sat on it and promptly died, IT'S STILL A LOT OF FUN TO WORK ON!!! Because it has a progress calendar and a goal chart and it's just really motivating for me, because if I don't end up writing each and every day, I don't get to update my writing journal. And if I don't get to update my writing journal, THEN I FEEL LIKE A FAILURE.
And obviously I hate feeling like a failure so I mean??? Tis the perfect amount of motivation, my friends.
I'm actually planning on doing a more in-depth post on my writing journal and goal organization in the future (maybe sometime in October or November??), so for right now I'll force myself to be extremely vague about it, but just know that this writing journal may or may not be changing my writing life right now, guys. Seriously. It's a 10/10 recommend.
(ALLLLSOOOOOO. . .I was sorta kinda planning on talking about the creation of my EV story bible in today's post, but a) I'm way over my word limit for one blog post at this point, and b) I haven't actually created my story bible yet?? So like. . .? #fail. But I'm hoping to create one for both EV and my November novel, so there may still be a post to come on that. I mean, I'm kind of doubtful on it?? But IT MAY HAPPEN. MAYBE. probably not.)
. . .???. . .
And I think that's about it for this entire post, guys. I feel like there were about a billion other things I wanted to talk about today, but for some reason I can't think of them, so. . .? I guess this is where we say goodbye.
In a nutshell, the third draft of everlost has been nothing short of an emotional roller coaster. It's had its ups. It's had its downs. It's had its in-between moments. And though I can't share all of the details that I'd like to because of spoilers, I have a pretty good feeling that the next few days are going to be on the "up" side of things. *starts singing the UP theme song*
So here's hoping that the next everlost update is a little more cohesive, a little less ranty, and is filled with all of those Pinterest boards and story playlists I've been promising you guys since April. Aha.
---
---
TALK TO ME, PEASANTS!
It's your turn, guys! What draft are you currently working on for your WIP? Have you ever written a second draft? A third draft? A fifty-twoeth draft? Do you take breaks between drafts, or are you more like me and just dive headfirst into each new round of revision without stopping to think about the negative impacts it could have on your raisin of a brain? Do you create playlists for your story? (and if so, do you create a playlist for each character, or just the story in general? because I sort of do both, but mostly I just create a playlist for my characters, and for some reason that seems a little weird to me. . . TELL ME I'M NOT ALONE, GUYS.) What are some of YOUR tips and tricks for getting stubborn characters to talk to you again? (cause I need all the help I can get, ahahahaha. . .) Have you ever created a writing journal?? And most importantly. . .
WHAT IS YOUR ABSOLUTE FAVORITE PART OF THE WRITING PROCESS???
Let's talk about ALL OF THE THINGS! down in the comments below!
As always, until next time. . .
*flings cookies in the air and disappears*