good morning, cyberspace!
On Tuesday, I gave you guys a glimpse into some of the books — both good and . . . not so good? — that I read in 2018. And since I had so much fun writing that smudge, I thought it might be even more fun to take a look at all of the books I want to read in 2019!
And let me tell you, folks. There are a lot of books on this list. . . So strap on your reading caps, grab yourself a cookie, and let's get started on climbing this mountain, shall we?
My 2019 TBR! (a.k.a. i'm never going to read all of these someone please help me)
PART ONE — The Top Five
As I literally just mentioned, there are a lot of books on my 2019 TBR. And I mean a LOT. And if you think I'm joking, here's a link to my official Goodreads 2019 TBR, which is pretty much being added to daily. (and yes, i'm aware there are only 20-some books on here right now but like???? THIS IS A LOT OF BOOKS FOR ME, GUYS. i'm not a very fast reader. #lame) However, since I have such a giant TBR this year (let's just forget the fact that I said I wanted to read a single book every month in my last post. it's fine. everything's fine. i'm totally fine.) I'm not going to stress about reading every single book on this list. I mean, I guess technically that's the whole point of having a TBR, but for right now, I have my list split into two parts: the books I REALLY want to read, and the books I sorta want to read.
Also known as The Top Five and The Extras. If I read all of the books in my Top Five this year and nothing else, I will be a very happy duckling. If I read all of the books in my Top Five and a few of The Extras, I will also be a very happy duckling.
And if I read absolutely none of my Top Five books and all of The Extras, I will be an extremely unsurprised but still very happy duckling.
So. Let's get started.
BOOK ONE . . . THE GUERNSEY LITERARY AND POTATO PEEL PIE SOCIETY by Annie Barrows and Mary Ann Shaffer
This is book one of my two absolute most excited-for reads of the year. My mom and I watched the movie adaptation for this story a couple months back, and we both absolutely loved it! She actually bought the book a couple weeks ago, so now I'm waiting for her to read it so I can steal it from her and devour it ask her if I can borrow it. . .
BOOK TWO . . . JONATHON STRANGE AND MR. NORRELL by Susanna Clarke
Oh look! My second most-excited-for read of the year! And coincidentally, this is yet another book that both my mom and I are going to be reading together!
My parents and I just got done with the television series for Jonathon Strange and Mr. Norrell on Netflix, and now I'm quite literally dying for a better ending with more closure. So. Here's to a giant tome filled with magic and creepy gentleman and missing fingers, am I right??
Also my mom bought this one at the same time as The Guernsey Literary and Potato Peel Pie Society, so I'm totally not going to steal this one away from her in the dead of night and read it without her knowing. Nope. Not at all.
BOOK THREE . . . THE LORD OF THE RINGS: FELLOWSHIP OF THE RING by J. R. R. Tolkien
This book has literally been on my TBR since 2016.
Aha.
Yeah, I'm horrible, I know. But you know what? This is definitely going to be the year that I read this one! My friend, Tarva, and I have been discussing reading this book together as sort of a little book club thingymabobbin with the rest of our writing group — she's absolutely in LOVE with this series, which I hope rubs off on me during our read-through? — and I am SO BEYOND EXCITED to be able to read this alongside her.
Hopefully this time around I don't fizzle out in the very middle of the book like I typically do. . . Ahem.
BOOK FOUR . . . THE HOUSE WITH A CLOCK IN ITS WALLS by John Bellairs
Ever since I watched the movie adaptation of this book with my sister last year, I knew I had to read this book. It's just so whimsical and creepy and magical, and I have very high hopes that the book will be even better than the movie.
You know. If that's even possible.
BOOK FIVE . . . ILLUMINAE by Amie Kaufman
I've heard virtually nothing but good things about this series, and I am EXTREMELY excited to finally read it this year.
(you know. if I actually manage to read it this year. ahem.)
This was actually a recommendation by my ever-lovely friend, Phoebe, and as I've previously mentioned on this blog, her book recs are pretty much the best things ever. SO. If I'm lucky enough to find this at my library next time I go, I am definitely going to be snatching this one up. *crosses fingers*

PART TWO — The Extras
BOOK SIX . . . A WRINKLE IN TIME by Madeleine L'Engle
Oh look! Another Phoebe recommendation! I actually started reading this book last year, but never ended up finishing it because I saw the movie and . . . well . . . hated it.
I know. I'm an awful person.
BUUUUT this was just recently recommended by Phoebe, who I have already established as the most amazing book recommender in all of history, so obviously I need to complete this story before I die.
And apparently the movies are atrocious to the people who love the book, as well, so I'm hoping that this is just one of those cases where the book is a million and one times better than the movie. Which, let's be honest, is pretty much every case in all of book-to-movie-adaptation history.
BOOK SEVEN . . . AGAIN BUT BETTER by Christine Riccio
I've watched Christine's booktube channel for quite some time now, as well as followed along on her writing vlog series thing-a-ma-jig, so I am EXTREMELY excited to pick this book up sometime this year and witness first-hand the story I've been hearing about for the past three or so years.
Also that cover is absolutely amazing and I mean??? Pretty book covers are pretty much 80% of why I read, guys. Not gonna lie.
BOOK EIGHT . . . THE BOY WHO STEALS HOUSES by CG Drews
There isn't actually a proper cover for this book yet (which is quite unfortunate because, judging by Cait's first book, A Thousand Perfect Notes, the cover for THIS book is going to be absolutely stunning. but i digress), but I am SO SO SO SO EXCITED FOR THIS STORY, YOU GUYS!!!!
I devoured A Thousand Perfect Notes in less than 24 hours, as well as read the little snippety teaser in the back for TBWSH, and I just . . . is it April yet? I'M PRETTY SURE IT HAS TO BE APRIL BY NOW.
If you can't tell, I'm pretty certain that Cait is going to be one of those authors who I ALWAYS have to read from. Not only is her blog utter perfection, but her stories are utter perfection, as well.
but also i've heard that this one makes people cry so i mean i guess we'll have to see what this does to my marshmallow heart. . .
BOOK NINE . . . ANARCHISTS by Marissa Meyer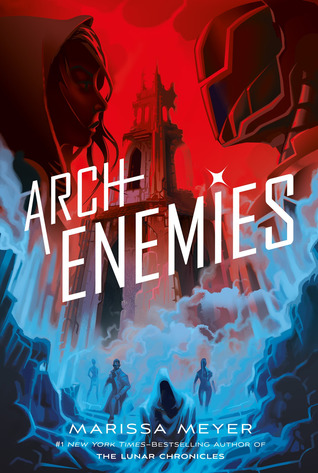 And, of course, 2019 would not be a decent reading year if it didn't include SOMETHING written by Marissa Meyer.
Because Marissa Meyer is one of my favorite authors of all time, obviously. And I KNOW that this book came out last year, so apparently I'm really late to be jumping on this bandwagon, but I AM STILL SO EXCITED FOR THIS BOOK, OKAY?
I mean, Renegades wasn't my absolute favorite Marissa Meyer book of ever (as I mentioned in my previous post this week) but I still need to find out what happens with my ship. . .
RUBY AND OSCAR FOR LIFE, PEOPLE.
BOOK TEN . . . KEEPER by Kim Chance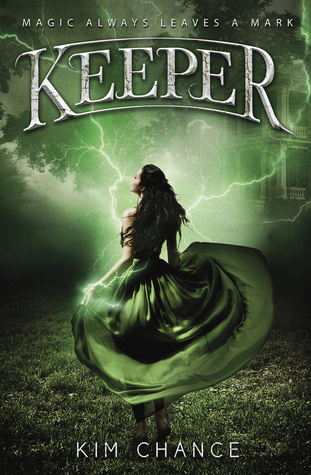 This is yet another book that I technically started reading last year, but I never got the chance to finish it because CHAOS and WRITING and NOT ACTUALLY REALIZING THAT READING WAS HEALTHY FOR GROWING YOUNG AUTHORS OOPS. So I'm planning on fixing that this year!!! Hopefully sooner than later, too, because I'm SERIOUSLY feeling the green vibe here. This will probably be my first read after I finish my current book, actually. . .
And speaking of my current book. . .
BOOK ELEVEN . . . THE NETHERGRIM by Matthew Jobin
THIS BOOK IS A WEIRD ONE, FOLKS. Technically, I'm only a chapter or so into it, but it's . . . weird. That prologue definitely gave me some shivers, though (not entirely sure why???) so I'm extremely excited to see where this story goes from there.
Also the Nethergrim is utterly horrifying and I'm wondering if maybe I should start the year off with something a little lighter. Aha.
BOOKS TWELVE-EIGHTEEN . . . HARRY POTTER YEARS 1-7 by J.K. Rowling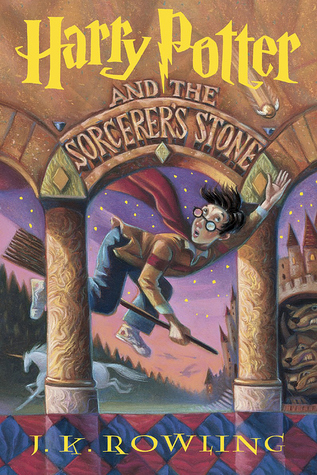 That's right, folks! This year, I really want to revisit the beautiful world of Harry Potter. There was once a time in my life where I couldn't go a solid three months without reading at least ONE Harry Potter book, but now I can't even tell you the last time I picked this series up. . . So this is something that I'm looking to fix ASAP.
And though this series is technically at the bottom of this list, I can personally assure you that I've put these books in literally no chronological order whatsoever, and I'm pretty sure I'll be rereading these books far sooner than I could possibly imagine. *thumbs up*
BOOK NINETEEN . . . BRIGHTLY BURNING by Alexa Donne
And here we have a book by yet another authortuber that I've been watching lately. Apparently this book is a retelling of Jane Eyre . . . IN SPACE!!!
And I mean, I've never actually read Jane Eyre, so I have literally no clue what to even expect with this story, but like . . . it's in space, sooooo. . . SOLD!
I'm really excited for this one, actually. . . Hopefully I can find it at my library. . .
---
---
TALK TO ME, PEASANTS!
And that, my friends, is unfortunately all I've got for today. As I stated above, I didn't list every single book I currently have on my 2019 TBR, because even though it's rather small right now, it would still take me literally all day to tell you guys about all of the books I want to read. And also I feel like that would be a really boring post to read, so. WE AIN'T GONNA DO THAT.
But anyway, now that I've slapped you all in the face with nineteen delicious books, it's your turn to tell me what YOU'RE hoping to read this year! What are some books that you're absolutely DYING to read in 2019? Do you have any authors that you literally MUST READ everything they write, simply because you love their previous works so much? How many books are you hoping to read this year? and most importantly. . .
DOES ANYONE WANNA DO A HARRY POTTER READ-A-THON WITH ME? cause I feel like that could be fun, maybe.
As always, until next time. . .
*flings cookies in the air and disappears*
Featured Photo by Kimberly Farmer on Unsplash